Eco-homes for sale in France, Spain, Portugal, Belgium, Bulgaria, Slovenia, ... Europe - Classifieds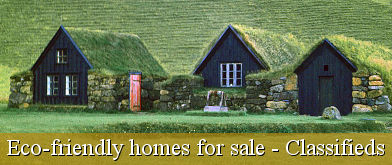 This page is made for short adverts of eco-friendly homes for sale in France, Spain, Portugal, ...
Please note that I'm not an estate agent specialized in eco-friendly houses, I'm just providing a free service for those, from UK or anywhere else, seeking a healthier home or selling an eco-property, an energy efficient and environmentally friendly property.
You're interested by one of these classified ads of green homes for sale ?
You own a sustainable property or a self-sustaining house for sale in France or in Europe ? An off-grid mountain home ? A healthy strawbale home ? A bioclimatic house ? Or a land for sale in an ecovillage ?
Then, please don't hesitate to leave a message below.
Please note that this service is 100% free.
You can find more green homes for sale consulting the french short ads or the french detailed ads.
---
---
Ecolodge for sale Spain - Off-grid eco-property (Extremedura/Badajoz)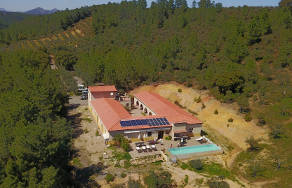 Superb hacienda style house for sale in Extremedura, Western Spain - (Castilblanco/Badajoz)
A haven of peace close to future Elysium City
We are offering a beautifully crafted 9-bedroom hacienda style house which includes a second storey annex for a live-in caretaker. It is delightfully situated in a secluded part of the Spanish Lake District (Castilblanco), just over two hours drive south west of Madrid. The property has a huge internal floor area of 546 m² and is fully legalized. We emphasize that it has full uncontestable papers, which is rare in Spain.
The land, which is mostly planted with olive trees, has wild orange trees and organic fallow land bursting with wildflowers. It covers 4 hectares, with the possibility to buy more.
The house includes: a very large open plan living room/dining room/bar/ kitchen with wood burning stove; a large pantry with large refrigeration units; a large laundry room; 8 bedrooms with en-suite bathrooms with showers and toilets; an independent studio (for a caretaker) with mezzanine terrace; a second apartment of 45m2 to finish (possibility of making a fitness room or an artist studio); a beautiful and easy to maintain shallow salt process pool adjoining a large sun terrace with manual winding shades and a soft water mist cooling system; a brick BBQ with fireplace and baker's oven attached.
The operating costs are very low! The house has total energy independence; solar electricity, solar hot water (gas boiler for support), low temperature hydraulic gas heating and an ecological cesspit. There is the option of mains electric connection by paying for the necessary works. There is a landline and internet connection. We offer you the option to buy fully furnished and equipped, apart from a few pieces of furniture and decorative objects to which we are attached.
The property is on the upper side of a very quiet shallow valley, with just the two homes, with only the sound of the wind in the trees and the sheep bells. The village of Castilblanco is located an easy 10km drive away, with grocery shops, pharmacy, doctor and dentist. The larger town of Herrera del Duque is 25 km. distance and has a small supermarket, garages, hotels, restaurants, a bull ring, bars and weekly market. On the doorstep are Cijara and Garcia Sola lakes which are renowned for their fishing (Black Bass, Pike etc.). The air has a rare purity which is full of the wonderful natural fragrances of pines, wild flowers and olive trees. The area is considered one of the main lungs of Europe and is being classified with the coveted protected biosphere heritage designation.
It is also a region known for its diverse and numerous wildlife. A mega leisure project, Elysium City, is slated to be built in 2019 just outside Castilblanco. It will be the first major smart sustainable town in Europe, planned and built in accordance with the 17 Sustainable Development Goals (SDGs) of the United Nations. This development will surely increase the value of property in this area - especially one that can be developed as a boutique hotel for golfers and holiday makers using the new complex.
This outstanding property, the vision and painstaking work to self-build of the present owners, is offered at a reasonable 580,000 Euros.
Please note that we offer two ways to purchase. The first is to sell the house and liquidate the limited company under which it is held. The second is to purchase the company, the amount of which would be the difference between the selling price and the company's business debt. By buying the company you would be able to take over the permissions to carry on processing building materials and developing the property to take advantage of the upcoming mega development near Castilblanco.
For clarification and complete transparency, we are at your disposal for any further information.
Interested by these ad n° PAC-92 ? Please leave a message below.
(100% free service, no charge)
---
Off-grid home for sale Portugal, Alentejo region, Sao Mamede Natural Park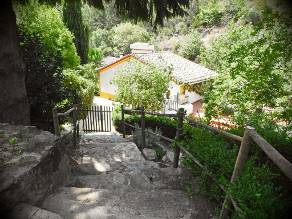 This wonderful off grid garden of eden is a preppers paradise.
The property consists of just over 7 hectares of extremely beautiful land much of which is pine forest and looks after itself. There is a fully fenced garden area of approx 1.5 hectares which contains a huge variety of mature trees and shrubs, several veg plots and a 20 ft polytunnel all of which are organically farmed. Loads of varieties of nut and fruit trees, olives, herbs and wild edibles. There are many rare species which live on or near the property including : otters, owls, kingfishers, eagles, iberian emerald lizards, water voles, pine martens, nightingales, frogs, toads fire salamanders, and bats to name a few. It is nestled in the heart of the Sao Mamede Natural Park near to Portalegre in the beautiful Northern Alentejo region of Portugal and is only 14 km from the Spanish border.
The house has its own pure water supply from a bore hole more than 90 m deep and benefits from its own power supply from a professionally installed 2.5kw solar system with back up generator. As the house is situated next to 200 m of river frontage from a beautiful clear river that flows all year round you can enjoy paddling and bathing whenever you like.
The main house is in a traditional style and has 3 bedrooms 2 bathrooms a kitchen and large living room. The annexe is at present used as a large workshop/storage area but could be easily converted into another large self contained apartment and already has water and electricity connected. It has an old traditional bread oven and a small sink unit already installed. Telephone and adsl internet are also connected.
The house is tucked away and feels hidden from the outside world and enjoys total privacy while being in easy reach of all amenities should you wish to use them.. The city of Portalegre has many supermarkets, shops, a hospital, banks, schools plus 3 castles located within a 30 km radius.
The price is 295 000 euros.
Interested by these ad n° PAC-198 ? Please leave a message below.
(100% free service, no charge)
---
Eco-friendly home for sale in Slovenia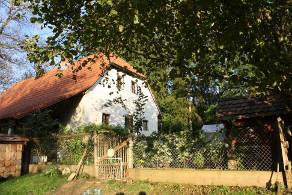 This 150 year old eco friendly traditional farmhouse from 1874 was recently renovated in rustic country style. What makes this place special is the private location with no visible neighbors, on a small south facing (sunny) hill on the edge of a grass field surrounded by natural forests. A small and bigger town are not far away if you need supplies (3,5 km Krmelj and 9,5 km Sevnica).
The house is built from natural materials, oak wooden beams and 60 cm thick natural stone walls give perfect insulation against heat and cold. The underground watersistern of 6500 liter gets filled by rainwater from the roof via a filter and there is a nearby spring. To get totally off the grid you only need to put solar panels.
The size of the property is 7000 m2 of which half is flat grassland and half is forest. Perfect for small scale farming and harvesting your own firewood. Three new energy efficient masonry heaters are built through the house for heating the rooms that you choose. They use very little wood and give heat for a very long time. There is a root cellar containing a water system including pressure pump, geyser and water filtration system. New flush toilet and double sceptic tank were recently added. A massive loft can easily be turned into a few extra bedrooms. Around the house are young fruit trees like apple, cherry, pear but also walnut and hazelnut.
Situated close to the Adriatic sea, Alps and only one hour drive from capitals Ljubljana and Zagreb (both with international airports) there is always something to do. For more photos and more information please contact us.
Surface area of house : 102 m²
Surface area of land : 7000 m²
Location : Jelovec 1, 8296 Krmelj, Slovenia
Asking price : €150.000,-
Interested by these ad n° PAC-194 ? Please leave a message below.
(100% free service, no charge)
---
Green home for sale Normandy (Eure)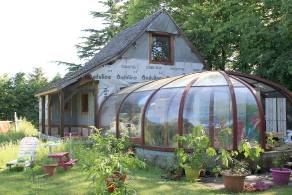 Ecological and atypical property of 5000 sqm at 800 m golf of Center parcs
1 half-timbered house and 1 gite tree-house large comfort with sauna open all year : 249 000 euros
Located in the Eure at 1h15 from Paris, 8km from Verneuil d'Avre et d'Iton and 300 m from the village of Barils our property with its tree-house open since 2007 offers a strong tourist potential, it includes :
1 new passive half-timbered house (to finish: out of water out of air) ecological and bioclimatic on stilts 70 sqm on 2 levels + on the façade south/west 41.3 sqm of spandrel veranda in laminated wood and polycarbonate. (Materials: oak, chestnut, wood wool, hemp, fermacell. Heating provided with wood stove and electric heaters with inertia. Resired sanitation: Phyto-purification)
1 house on stilts (tree-house) with sauna 33 sqm + terrace and laundry (materials: acacia, pine, spruce, douglas, oak, hemp, wood wool Heating wood stove, pit all waters). Green key ecological label since 2013. Good reputation since 2007.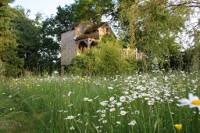 Possible to add yurts, caravans, tree houses, tiny houses on the 5000 sqm land classified as a natural tourist area in the new PLU. Entirely fenced and planted (1000 sqm wood) it also has 1 permaculture organic garden (250 sqm), 1 paddock (450 sqm) 2 leisure chalets 12 sqm 14.7 sqm and 1 workshop wood 16.30 sqm. Possible extension of existing buildings. Free entrance card at the Center Parc for the inhabitants of Les Barils and discounted rates for the customers per day. Broadband Internet (4G) through nomadic box (good reception with Bouygues). No wired phone line. No Linky counter. Property tax 473 Euros per year. SNCF train station at Verneuil d'Avre et d'Iton (8 km) 1h15 from the station of Montparnasse Restaurant in the village 300 m from the property and shops 4 km, organic market garden (new) 250 m. Primary school 4 km and secondary school 8 km (public and private). International school 7 km (primary classes in high school). Alternative school in Verneuil (opening 2019). School cars.
Half-timbered house :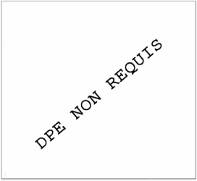 Energy performance diagnostic not required for according to owner informations.
DPE non requis selon les informations du propriétaire.
Tree house :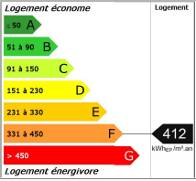 Energy consumption : F ( 412 kWhPE/m².year).
Greenhouse gas emissions : A ( 5 kgeqCO2/m².year).
Interested by these ad n° PAC-160 ? Please leave a message below.
(100% free service, no charge)
---
Self-sustaining eco-property for sale in Spain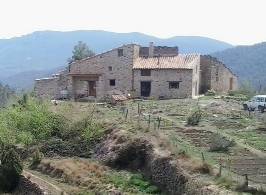 Traditional stone house refurbished for modern, self-sufficient lifestyle, surrounded by Pine forest, in Villahermosa del Rio, Castellon, Spain.
The property comprises of :
1- THE MAIN HOUSE, which has been fully refurbished, has 88 sqm over two floors.

The ground floor has a kitchen / dining room which connects with the living room, a bathroom and separate toilet.
The house benefits from a wood burning stove which heats radiators throughout the house as well as hot water (while you cook).
The electricity comes from a solar panel system and water comes from our own well.
The house stands out for being very low cost and having a very low carbon footprint.
There is also an ecological sceptic tank in place.

2- THE SECOND HOUSE was originally two houses which are being renovated into one.

The main structure has a new roof and windows and doors, but is in need of further work.
This offers an excellent opportunity for a business in rural tourism as it could have at least 5 double rooms on completion.

3- There is A FURTHER HOUSE which still has the original roof and would be ideal for further enlargement, but is also in need of renovation.
4- Outbuildings fully restored and in use are: a pantry, tool shed, henhouse, pig house, battery house, wood store, greenhouse as well as the original oven of the masia.
5- The land which comes with the house is 1.2 hectares spread over three terraces. One terrace contains a fenced organic vegetable patch, while the other two have around 30 olive trees (5 years old) and another fenced area with a house for animals within it.
This property has been restored and lived in for the last 7 years.
It is an excellent opportunity to move straight in and start living a more sustainable lifestyle. With the bonus of the extra properties the potential for a rural tourism business is excellent.
Interested by these ad n°51 ? Please leave a message below.
(100% free service, no charge)
---
Green home made of massive wood panels with land for sale in France in south Aveyron near Millau (Occitanie)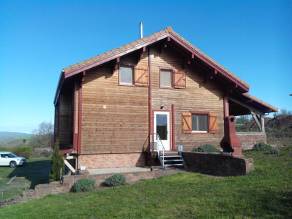 You will be assured to have a real very favorite for this wooden massive house on the heights of the South Aveyron near Millau. Wooden house massive, ecological, bioclimatic of character, with 3210 m² of the closed raised ground, and a dominant panoramic with a beautiful view. Built in 2003, of a technical high quality : on 3 levels of surface equivalent to 106 m² by level.
Basement buried there hard, with big garage, endowed with a motorized door of quality, laundry, cellar, storeroom, room of arrangement.
The structure of 2 floors is in beam of spruce of Jura of thickness 100 mm of type crosspiece. The facades are doubled with insulation and bardage larch.
On the first floor : entered, open equipped kitchen of 15 m², dining area of 15 m², lounge 35 m², big bathroom with toilets, bathtub, bidet, cupboard and double vanity unit, as well as a dressing room / room of 13 m².
On the floor, side harms 3 big rooms from 18 to 23 m², bathroom with cabin give a shower, washbasin and toilets, to an office opened on the corridor.
Equipments : solar boiler, entrance with double door, boiler "Godin" with wood, beautiful joineries, the real buried cellar, cupboards, big balcony, shelters to wood, barbecue, electric portal, composter, system of recovery of rainwater (7000 liters).
Total surface 318 m².
Other photos on request. Quality of life in the countryside near the city, the tranquillity, the leisure activities : summer swimming pool, tennis, Riding school, walking , fishing,… - 40 mn of Millau 40 mn of Albi - 1:30 am of Montpellier - businesses, schools, middle school, pharmacy, med., etc...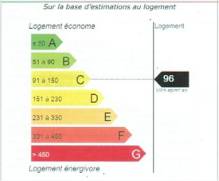 Energy consumption : C ( 96 kWhPE/m².year).
Greenhouse gas emissions : A ( 1 kgeqCO2/m².year).
Interested by these ad n° PAC-139 ? Please leave a message below.
(100% free service, no charge)
---
French off-grid farmhouse for sale in Auvergne-Rhône-Alpes region, Ain department (01)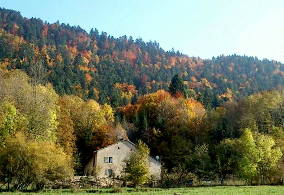 Granite and stone french farmhouse. Built before 1832 (earliest map we've found... Napoleonic)
4900 m land partially enclosed, sloping. Small orchard (approx 600m enclosed) fruit trees including apple, pear, peach, plum, damson, sloe. Walnut. Berries. Mushrooms. Enough ash and others to keep you in supply of firewood for quite some time.
Large decked area is in place with views down the valley (needs completing) Parking for several vehicles.

5 kw solar power with battery bank. During winter, we did supplement the charge during bad weather with a generator.
1000 lt water tank for both domestic hot water and heating. We suggest a new source in order to heat water- pellet or air to air.
Heating solar panels (not connected as we were relocating them from roof, to facade of house. Very easy to reinstall).
Water – 1100 lt water source. Fresh, clear cold water straight from the mountain. Rainwater recuperation tank in place but not connected (to be used as grey water for toilets etc) 1000 lt tank.
Stand alone microstation (requires less maintenance than septic tank).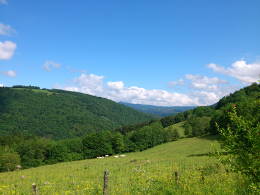 House is partially renovated. New electric distribution board in place and wiring has been ran into each room (including barn and un renovated areas) requires deciding the location of sockets, switches, lights etc. and installing.
There remains some work to be completed.
Large barn attached to house. Permission is in place to be incorporated into living area, additional two/three large bedrooms. Family bathroom and en suite. Habitable side of house is currently two large bedrooms, one with wood burning stove and en suite with toilet, sink, and large bathtub.
Downstairs has entrance, living room with fireplace, leading into fully fitted kitchen.
American fridge freezer in place. Dishwasher. Washing machine. Butane gas bottle cooker range. Also installed is a wood burning cuisinière. All of which can be agreed to be kept in place if desired.
House is located in french alps at an altitude of 755 m.
Wildlife galore. Lynx. Boar. Deer. Mountain goats. Only one neighbour 300 m away.. very nice man who, like us, liked his privacy and quiet.
Road was cleared of snow in the morning and early evening during winter. 40 min to Geneva airport. 1.45 hr to Lyon airport.
Although in complete isolation, only ten minutes to closest town, school, train station (TGV to Paris).
Asking for 275,000 € open to discussion (I believe the average price of land in area ranges from 50-100 € m²).
House is situated in a Reserve de Chasse, meaning no hunting is allow in that area but it is permitted above and below the land.
We lived there full time over winter etc. for several years while working in Geneva. Job has now relocated so house is empty.
Excellent full time house (currently habitable, but requires some work) holiday home or holiday rental.
Feel free to contact or ask any questions.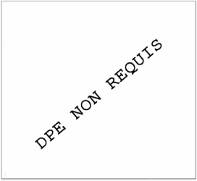 Energy performance diagnostic not required according to owner informations.
DPE non requis selon les informations du propriétaire.
Interested by these ad n° PAC-128 ? Please leave a message below.
(100% free service, no charge)
---
French ecovillage in the Lot (46) department, Midi-Pyrenees region, Lacapelle-Cabanac, South West of France
The town holds a meeting with the first people interested in this ecovillage January 17, 2015 at 2 P.M. at city hall.
"The development of the village must be reasoned, responsible and sustainable", this is one of the objectives of this ecovillage project of a small town in the Lot department, between Villeneuve-sur-Lot and Cahors, in the South West of France.
Among the objectives :
promote social link, the local economy and preserve the environment,
a participatory approach,
an extension of the village rather than an housing development,
a network of public spaces rather than a green space,
build and design rather than copy,
promote the use rather than the function,
integrate rather than isolate.
The town is located just a few kilometers of the Lot-et-Garonne (47), Tarn-et-Garonne (82) and Dordogne (24) departments.
This is a friendly little village of 163 inhabitants which has retained its rural character.
The town, situated in the vineyard of Cahors wines, enjoys views of the Lot valley.
Approximately 30% of the village area is cultivated organically.
You can see more details on the french ad of this ecovillage in Lot department - France.
Interested by these ad n° AD260en ? Please leave a message below.
(100% free service, no charge)
---
Fully established self-sufficient home for sale in Andalusia, Spain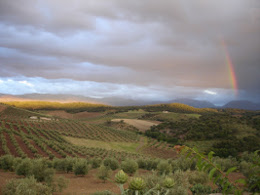 This lovely two bed room house is situated in the geographical heart of Andalusia. Living here rewards you with magnificent views of the Andalusian hillside which is covered with many olive and almond trees. The property is divided into two units of accommodation. The main house is a second story two bedroom that covers 60 m²2, and the ornamentation of the bathrooms and bedrooms heeds to the traditional Andalusian style. Adjoined to the house, is a separate studio (30 m²) which is fully equipped with a private kitchenette and bathroom. Situated above the house there is a 4 m X 5 m cabin that could be used as a craft workshop or furnished into a chalet. There is a separate outside bathroom facility purpose built for the cabin.
There are established gardens with many fruit and nut trees that require little maintenance. The house is located within the Trunifico Recreation Area which is why this house is perfect for nature lovers who enjoy hiking and walking, or a family with curious children who love to explore nature. The property is 2.5 km from the nearest village, Villanueva de Tapia, which covers all your needs. In the village you can find a post office, banks, bars, library, swimming pool and gym, grocers, and a local school for the children. The closest cities are Granada, Malaga and Cordoba, which are approximately one hour away by car and public transport. The nearest lake with a swimmable beach is only 15km away.
This house is special because it is completely off-the-grid. The home runs on solar electricity and rain water that is suitable for drinking. A _ litre holding tank provides uninterrupted constant pressure water to the house; and a strong and fast internet connection is available via satellite. Living here offers you a rewarding and relaxed lifestyle, and the house and location are ideal for anyone wishing to lead a sustainable life. All the hard work has been done, so now, it is ready, and awaits for you to call it your home.
Possibility for a definitive exchange of house or appartment preferably in Belgium, Luxembourg, but could be possibly in South of France. I will study all propositions.
Interested by these ad n° PAC28en ? Please leave a message below.
(100% free service, no charge)
---
Eco-home for sale - Centre region, Indre (36), France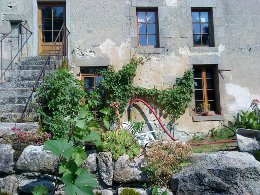 Near La Chatre (Indre), set back from the hamlet lane, through part of the garden with fruit trees( apricot, peach, apple, cherry), the front of the house looks over the garden and fields.
The main large house (177 m2) can be accessed via the kitchen, lounge or stone steps to the1st floor.
Renovation work on the property has already been started with most of the major works completed in keeping with the unique regional features within the property, such as internal granite stone steps, flag floors, bread oven.
The majority of the larger work being done such as double-glazing, bathroom, kitchen area, insulation, flooring, new electrics and plumbing.
Upstairs, floors have been laid, insulation added, walls rendered and features beams left exposed.
Above the bedrooms on the second floor, is a very large renovated loft with beautiful beams.
In front of, there are two very old stone buildings in need of renovation, but which have already been inspected by "Gites de France" as potential historic gites associated with them. (Grants of up to 50% can be obtained)
It has a private access through part of the garden with room for off-road parking.
The Limoges airport proposes cheaper flights towards England.
Price : € 120 000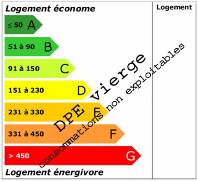 Interested by these ad n° 29 ? Please leave a message below.
(100% free service, no charge)
---
Ecocentre for sale - Europe, Bulgaria, near the Greece border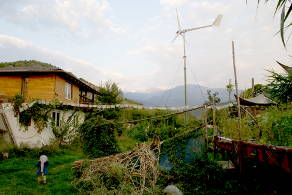 Sharalia project is situated in Vlahi village in the foothills of Pirin Mountains, Sinanitza and Sharalia peaks. The mild Mediterranean climate is a precondition for solar energy production and development of farming and agriculture.
The main purpose of the initial project is to experiment in different areas as ecology, nature protection and alternative energy solutions. We hope that gained knowledge helps us to maintain sustainability. We apply the principles of permaculture in different areas as housing construction, housekeeping and gardening. We gained practical experience in Aquaponics and Bio farming. Our centre is member of the WOOF – World Organization of Organic Farming. We organize and participate in various workshops and seminars promoting permaculture and sharing knowledge.
The eco-center has :
eight bedrooms,
two kitchens (summer and winter),
two bathrooms and four composting toilets (two internal and two external).
Drinking water comes directly from the mountain and it's free, we also have a hybrid power-plant (3 kW) that covers the needs of the site. The heating is central heating and the dirty water from the houses is going to a biological treatment plant.
The yard is 1,300 decares in which, apart from a variety of plants also is located Aquaponics system (8 m3).
The place is provided for eco center, so the people who might be interested maybe will be an organizations with similar activities.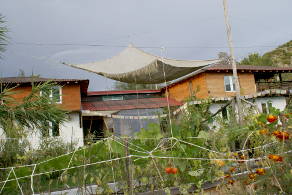 We provide opportunities for healthy and active life style : gardening, healthy and diet cooking, sports and cultural events. The region around the village is woody and is rich in plants, herbs and animal diversity, providing excellent opportunities for picnics, wildlife educational programs and other outdoor activities.
Activities examples : in August 2009 we and our friends from climbing club 'Planinetz' made a premier ascent of 'Scorpio' climbing route - 6 A1 which is near the Vlahinski waterfall. The local people also took part in the event, after on we made a lot of other premier ascents in the other tops in the area. In the same year we made our Composts workshop and built our first outdoor composts toilets. In a try to promote local culture and crafts we created the traditional baking workshop.
In our spare time we make mountain bike tours across Lagera vicinity near Gradeshki thermal baths, climb Mount Sinanitza and visit the many archeological sites around.
In the spring of 2011 we created our first Permagarden, renewed and enriched every spring.
For more information, please visit centursharalia.wix.com/vlahi or www.facebook.com/Center.Sharalia
Ad n° 81.
---
Eco-friendly house for sale in the Perigord national park, on the borders of Haute Vienne and Dordogne - Sold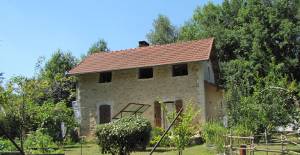 This little piece of heaven is for sale at an asking price of €79,000. The property is situated in a peaceful location within walking distance of 87230 Bussiere-Galant and Bussiere-Gare in the Perigord National Park, on the borders of Haute Vienne and Dordogne.
The house, which benefits from a new roof, has been beautifully and sympathetically restored by Brigitte, using environmentally friendly materials and sits in perfect harmony with it's verdant surroundings. It is truly a little work of art in it's own right.
It has one dependence for the storage of gardening tools etc. This building has a green roof and houses the photovoltaic cells which provide electricity for the house. There is a dry cellar (21ms) which houses the batteries/controls for the electrical installation and water supply.
The garden has numerous fruit trees and well established beds for flowers and food plants.
Land - 830 m²
House - 72 m²
First Floor - 2 bedrooms, Ground floor - Living Room and Kitchen
Electricity - Photovoltaic panels
Water - Well with electric pump
Drainage - Grey water via phyto purification system. Dry composting toilet.
Communications - 3g/4g available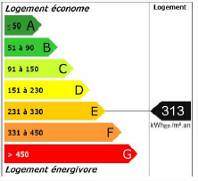 Energy consumption : E ( 313 kWhPE/m².year).
Greenhouse gas emissions : C ( 12 kgeqCO2/m².year).
This green home in Perigord has been sold.
---
Green home for sale Belgium - Antwerp Region - Essen - Sold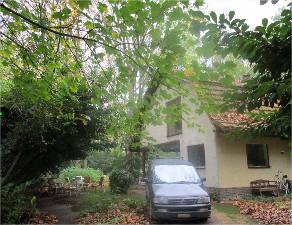 Ecological property on a plot of +/- 1430 m² of building land, timber frame with loam
Upstairs: 2 large bedrooms (32 m² and 17 m²), loft (with possibility for 3rd bedroom) Downstairs: living room, spacious bathroom with sink, bath, shower and toilet, large open kitchen, large cellar (4 rooms, total +/- 80 m², 230cm high), covered terrace of 18 m², tiled stove with heat exchanger and warm air system to bathroom and bedrooms.
House located in green residential area: child-friendly environment, healthy air, quiet area and close to national park and schools. Unique character house built with natural materials.
Wonderful living environment.
This eco-home close to Antwerp is sold.
---
Ecological house on permacultural land in the Sierra Nevada (Granada), Spain - Sold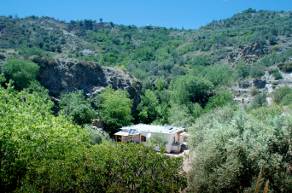 The farm Finca del Fuerte is a stunning property, in the historical and authentic Alpujarras Valley, in the middle of an animated region. A 3-hectare land in permaculture, with a self-sufficient 100 m²-house, 150 productive olive trees, many other fruit trees, mountain water. Opportunity !
Buildings
House - cottage ready to move in : kitchen, dining room, living room, bathroom, toilets; 2 sleeping rooms (15 m² and 17 m²), office and toilets

Built with ecological materials (wood, straw, lime plasters), building technique GREB, finished in 2015)
Cadastral surface of the house: 100 m² (50 m²+50 m²) = 1077 sq ft
Ecological materials (wooden structure and insulation with straw bales), heat insulation (walls, floor, roof), double glazing, shutters
Self-sufficient - autonomous for: water, electricity, logs, hot water, and solar cooking
Internet high speed (30Mbps)
Coverage of major mobile operators: Vodafone, Movistar, Orange

1 cellar (6 m²): for ex to store food, seeds for the vegetable garden, ...
2 garden storage (5 m² and 4 m²)
1 greenhouse - geodesic dome (10 m²)
ruin of 25 m² (shed for animals, stable, hay-loft, ...)
chicken house for 10 chickens in a enclosure
3-hectares land in permaculture
Mountain water : 2 springs with drinkable water ; Water rights ; Water deposit tanks (total : 80.500 liters)
In terraces with new watering system and fence
Ecological land since at least 20 years (no chemicals / compost, manure, mulch, ...).
3 vegetable gardens with fruits trees: +/- 500 m² (~5500 sq ft) of living soil (with protection fence)
150 olive trees and other fruit trees : prune, cherry, pear, apple, peach, orange, mandarin, lemon, fig, pomegranate, loquat, medlar, mulberries, quince, vines, ...
Other trees : pistachios, pomegranates, figs, willows, poplars, elms, hackberries, ashes, oaks, chestnuts
Medicinal herbs and aromatic plants (thyme, rosemary, lavender, asparagus, cactus, asparagus, garlic, fennel, oat, alfalfa, vetch, clover, mints, horse tail, capers, ...)
Surroundings
Closest neighbours: 5 minutes walk (2 adults and a kid, very nice)
Access to the village : 10 minutes by car on a track or 15 minutes walk on a touristic path (Gerald Brenan)
Welcoming village of Yegen: post office, bakery, ham dryer - delicatesen, grocerie, local market 2x/month ; Health center 5 days / week ; school for 3-12 years old, extra-curricular and cultural activities
Between snow and sea: in the same day, you can touch the snow at the mountain tops and go swimming in the Mediterranean Sea (sea only 60 km from Yegen)
on the edge of the Parque Natural y Nacional de Sierra Nevada
800 m above sea level: in the Alpujarras Valley, on the South of Mountains Sierra Nevada with a multitude of small white villages.
This green home in Spain is sold.
---
Eco-friendly mas for sale in south of France - Languedoc-Roussillon, Pyrénées-Orientales (66), Montferrer - Sold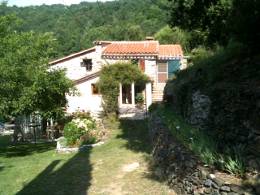 Completely restored Mas in south of France with a superb view over the mountains,
situated on 800 m altitude, facing South, in a sheltered location,
the forest inviting to nice walks and providing of wood,
a large fruit garden with trees of apple, pear, cherry, apricot, sharon and fig. Walnut- and hazel trees,
established viggie patches,
outside kitchen,
own source of spring water with three cisterns,
solarpanels connected to waterboiler.
160 m² of habitable surface (1722 sqFt),
2.8 hectares of land (6 acres),
8 rooms,
3 bedrooms,
wood heating,
good structural condition.
The main house has two bedrooms, a loft, livingroom, diningroom with panorama view, fully equipped kitchen (gas stove), two wood stoves of good make, bathroom with wc, shower and tub. There's also a wc and shower in the washing room with entrance from outside. Garage, annex (former art studio) and guestroom with separate bathroom. Swimmingpool in mosaik. Everything in a very good condition handled with care.
Close to the idyllic village of Montferrer, Pyrénées-Orientales.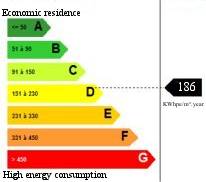 Energy consumption : D ( 186 kWhPE/m².year).
Greenhouse gas emissions : A ( 3 kgeqCO2/m².year).
This eco-friendly home for sale in South France has been sold.
---
Environmentally friendly renovation : rural property for sale in 2 hectares of land close to La Ferté-Milon in Picardy (Aisne department (02))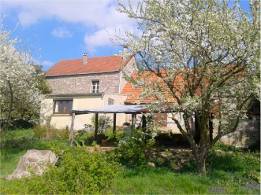 Five-room stone-built country house and outbuildings in large plot of land.
2 hectares of land
1.7 hectares adjacent to the house and 0.3 hectares of wooded land outside the village. Ideal for organic market gardening project, for small horse and donkey farm, and/or gîte or bed-andbreakfast.
The house
Two floors, fully fitted, 120 m². House restored with environmentally friendly materials and methods (wood-fibre, wool and lime-hemp plaster insulation, fermacell ceilings, double glazing, environmentally friendly paints, new Jura spruce wooden floors with hard-oil finish, electrics with screened cables, etc.).
Outbuildings
Two-storey barn (35 m² per storey). Two-storey workshop (25 m² per storey) with period bread oven and 15 m² vaulted cellar. Built woodshed and henhouse in the garden.
Advantages
80 km from Paris. 1 hour's drive from Roissy airport by N2 main road. 14 km from Villers-Cotterêts railway station.
Unusually large plot of land (2 hectares). Quiet. Superb clear west and south-wet facing views.
Pleasantly located on the edge of village with no facing views.
Great orchard (apple, pear, cherry and quince trees, a young fig tree, and several varieties of plum tree, raspberries, gooseberries, blackcurrants, herbs).
Large adjacent field that is good for keeping a watch over livestock.
Permanent spring with space for a natural swimming pool and reed bed wastewater system.
Exposure to wind ideal for installing a small wind turbine.
Excellent vegetable and plant growing soil naturally refertilised since 2005 with no chemicals.
2 cellars, one vaulted.
Old bread oven.
Space for a possible second living space or extension (up to 200m²).
5 km from shops and schools.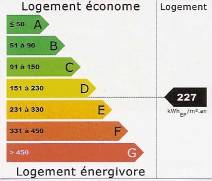 Energy consumption : D ( 227 kWhPE/m².year).
Greenhouse gas emissions : C ( 20 kgeqCO2/m².year).
This eco-property is sold.
---
Eco-friendly and bioclimatic house for sale, South of Nancy - Lorraine, Meurthe-et-Moselle (54) - France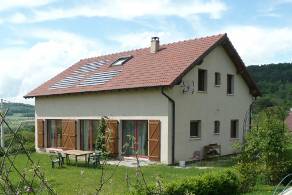 Type : 4 bed house, surface : 200 sqm
Facilities : garden, balcony/terrace, parking space/garage, cellar
Specific assets : ecological house, very low consumption, exceptional environment, quiet
Property description :
Rare, south of Nancy, Lorraine.
Bioclimatic, ecological and very low energy consumption house of 200 sqm habitable surface.
On 2,700 sqm of land with vegetable patch, orchard and ornamental garden.
No overlooking neighbours in an exceptional environment.
Basement : two car parking spaces, laundry room, workshop, cellar.
Ground floor : sitting room, lounge, library : 55 sqm, 1 bedroom, 1 bathroom with a double wash hand basin, shower and bath tub, 15 sqm fitted kitchen with appliances, entrance, restroom
Upstairs : 1 bathroom, 3 bedrooms, 1 restroom, 1 mezzanine
Surrounded by orchards

Location : small French village with a population of 60, preserved environment with superb hills, many walks in a magnificent and natural site.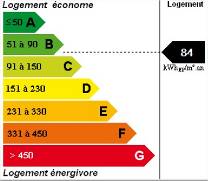 Energy consumption : B ( 84 kWhPE/m².year).
Greenhouse gas emissions : A ( 2 kgeqCO2/m².year).
This bioclimatic house is sold.
---
Remote, off grid, ecological house for sale in France in Drome Provencale, on 8.6 acres of truffle land - Sold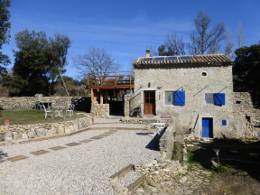 30 minutes away from Autoroute A7, 2 hours from Lyon, 5 minutes from the village and all commodities, in a natural zone, access via 600 meters dirt track, no neighbours. Surrounding communes are Grignan, Valreas, Nyons, Dieulefit, Begude-de-Mazenc.
- Provencal mazet from 1896, south exposed, quiet area, in full nature, 40 m² , carefully renovated, totally autonomous, photovoltaic 3600 W, spring water all year round and more. 4 rooms, wood stove, shower space, cooking stove and water heater on propane, dry toilets cabin at the back of the house. Water treatment by plants, Basement/technical room, 12 m² wooden deck, summer space, ruin touching the house that could be rebuilt for 40 m² more. 2 garden sheds, organic garden, creek, panoramic views.
- 8.6 acres land, (3,5 hectares), totally fenced. Truffle land in production, could be maintained, mainly oaks, and white oaks, a few pine trees, junipers, dog roses, lavender, thyme, wild orchids… further from the house is a 4 beds caravan with kitchenette, a covered 10 m² wood deck. Wildlife, birds, river swimming 20 minutes away on bike. Other springs that could be used on the land. Lots of possibilities. Big potential.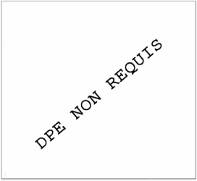 Energy performance diagnostic not required according to owner informations.
DPE non requis selon les informations du propriétaire.
This eco-friendly farm has been sold.
---
Guest-house with character, eco-friendly site for sale, France, in Ain department (01) near Bourg-en-Bresse and Mâcon, Rhône-Alpes. - Sold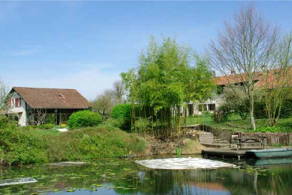 The property is situated in a very quiet location, in the country-side, close to the village of Montcet and only 10 kms away from Bourg-en-Bresse (a charming market-town renowned for its gastronomy). It is easily accessible, 1h from Lyon, 1h15 from the Saint Exupéry airport, 1h30 from Geneva, and only 2h from Paris by high-speed train (the station is only 10 mns away).
Two houses of 450 m2 surrounded with a landscaped botanical garden of two acres with swimming-pool and pond (well-stocked with fish).
The main house is a spacious, typical farmhouse which has been renovated to high standards, providing comfort and authenticity.
It comprises of :
a 250 m² house with small entrance hall, spacious open-space living/dining area/fitted kitchen (dual aspect windows and doors), tiled floor, study and utility rooms, toilet and 5 bedrooms (fitted wardrobes) and 2 bathrooms.
a 100 m² flat (independant access) with open-space living area/kitchen (two cupboards), 3 bedrooms (parquet flooring) and 3 bathrooms. This flat is currently run as a successful high-standard guest-house (3 "épis").
There is also a more recently built house of 100 m2 with underfloor heating, spacious living area opening onto a conservatory, fitted kitchen, 3 bedrooms, 2 bathrooms and independant access (can be let out as a gîte).
Large garage and porch, paved terraces. Heat pump and wood-burning stove, double-glazing throughout, solar panels, phyto-purification system and dry toilet at the swimming-pool, contributing to energy savings (class C) and the respect of nature in a preserved environment.
Eco-friendly site, wild-life preserving location, permaculture in the vegetable garden, composting, productive orchard, apiary and chicken enclosure (with henhouse).
This property would also be very suitable for a co-housing project.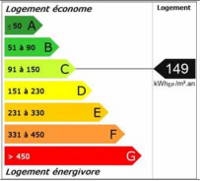 Energy consumption : C ( 149 kWhPE/m².year).
Greenhouse gas emissions : D ( 21 kgeqCO2/m².year).
This green home is sold.
---
Chalet for sale, France, Haute-Savoie department - Alpine property close to Le Petit-Bornand - Green renovation - Sold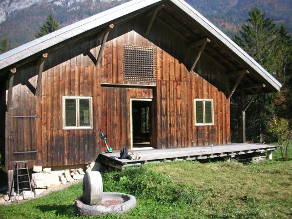 Haute-Savoie (74), Borne Valley, small farm, ecologically renovated, 100 % countryside, 2 500 m² of land, brook, apple trees, calm, forest, nearby river, 225'000€
The house is located on the west side of the Borne Valley, Le Petit Bornand municipality, 35 km from Geneva, at the end of a dead end track, with only one neighbour farm 50 meters away. The access is easy. It is a small tradtional farm, built around 1830. The barn was completely rebuilt and extended around 1910. Bought in 1990, it was renovated in the spirit of the original building, with natural materials only.
The barn is the main residential part : like a loft, it was kept undivided, with a mezzanine added. Its surface is 9 by 11 meters, its height more than 6 meters.
At the same level of the barn, a small lateral granary where the water system and the gaz water heater are installed.
At the inferior level in the stone part of the house, the original kitchen and bedroom were transformed and can now be used as an independent appartement, each room 4 meters by 4. In addition, the original stable (used as a storing space for tools and garden devices) and two cellars.
Used as a second home, the house was intended as a « back to nature » refuge. This implies following choices :
there is no electrity and no phone line (both are available 50 meters away ; solar pannels are a realistic option). Until now, petrol, gaz or battery lamps provided the lighting;
heating of the barn is provided by a big Jøtul wood stove, heating of the independent appartment by a mobile gaz heater (installing a wood stove is possible);
toilets are Quebec imported no water composting toilets (Sun Mar), with a roof ventilation (no odor). They are easily emptied on the compost once or twice a year or more, depending on the number of people and the frequency of use;
water comes from a spring about 100 meters from the house, using natural gravity for pressure. No municipal water on this side of the valley. Advantage : the water is free. From end of November to March, water inlet is switched off to prevent frost problem in the pipes. Water is still available from a running tube outside of the house and stored into containers.
The land coming with the house is about 2'500 square meters. It is borded with a brook and apple trees on one side, with beech, hazel, alder and some fir trees on an other side, and by the limit of the neighbour's land on the last side. The forest is very close. The Borne river can be accessed by a foothpath which goes down from the house.
Attention !
In the present state of things, the house is not suitable for a principal home. Modifying the water system to prevent freezing in the winter and installing electricity would cost about 50'000€ extra.
You can see more pictures on the french detailed ad of this alpine property for sale.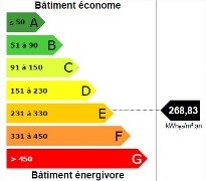 Energy consumption : E ( 268,83 kWhEP/m².an).
Greenhouse gas emissions (GES) : A ( 3,49 kgéqCO2/m².an).
This green home is not for sale anymore.
---
Eco-property for sale in the Perigord region, Dordogne (24), close to Brive-la-Gaillarde and the Correze (19) department – Aquitaine - France - Sold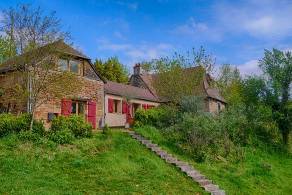 Charming house in the Perigord region of France, situated in four and a half acres of land, ideal for nature lovers.
In the Perigord Noir, in close proximity to the Correze department, this beautiful house of approximately 150 square metres is typical of the region. It was fully renovated 6 years ago, respecting local traditions and tastes but includes many highly environnmental considerations.
Far enough away from the road to be considered secluded, it is surrounded by meadowland, woods and has a large pond, the all being securely fenced off. The woodland includes twenty hundred year old oak trees and the small lake has a pontoon and a small waterfall. Only the birds and frogs are to be heard !
The house faces South-East, so benefits from the many hours of sunshine in the daytime.
The house consists of 5/6 «living» rooms, 2 bathrooms and toilets with exceptional volumes, and tastefully restored using high quality materials.
There are several outbuildings.
There is reinforced insulation (French Class B energy) using ecological materials (cork, wood wool and cellulose wadding).
The underfloor heating is powered by 14 sq. of solar panels (maximum efficiency due to house orientation) and a centralised boiler fuelled by wood.
Consumption: about 10-12 cubic meters of wood per year, which means a heating and hot water budget lower than 500 € per year.
Tank 7000 l with pump for rainwater recovery.
No work needed other than personalisation of the decoration.
On the ground floor :
large living room of 45 sq. with large fireplace,
lobby,
kitchen-dining room of 39 sq.,
small shower room with toilets,
laundry room and toilets,
Boiler room ;
On the first floor :
a mezzanine above the living room,
2 nice sized bedrooms with cupboards,
bathroom with a large shower and a whirlpool bathtub;
Outbuildings :
Open cellar with water well,
12 sq. tool shed equipped with water and electricity,
27 sq. animal stalls on concrete base equipped with electricity and automatic watering facilities,
wood storage.
This is a stunning property and a real opportunity. A visit imposes itself.
You can see more pictures on the french detailed ad of this eco-friendly home in Dordogne or watching this video :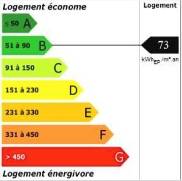 Energy consumption : B ( 73 kWhPE/m².year).
Greenhouse gas emissions : A ( 1 kgeqCO2/m².year).
This eco-friendly home is not for sale anymore.
---
Eco-friendly house for sale, suitable for B&B, eco-gite, cohousing, holiday home - Dordogne (24), close to Perigueux, Perigord region - France - Sold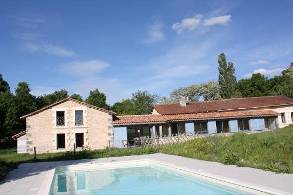 Eco-friendly restoration for this longere and barn on height with a beautiful view of the surrounding countryside of the region, at the end of a small road with only one other neighbor in a quiet and relaxing place, on approximately a hectare of flat land with groves, fruit trees, organic vegetable garden. 5 bedrooms, two offices, ample living space and new saltwater pool of 4 x 8 m with heat pump.
Location : between Riberac and Tocane Saint Apre in the "Green Périgord". Half an hour from Périgueux, an hour and half to Bordeaux. Close to first school, college and secondary school.
This property has been designed to connect the original longère and barn together to make one large family house. But the house can be separated in two parts to welcome two families. We have used eco- friendly materials throughout. It stands in over a hectare (10 000 square meters) of land comprising lawned areas and woodland and has a long private driveway leading to the property. 5 bedrooms and pool with views over open countryside.
The property is entered via a wooden veranda, which has been created to connect the original longère and the barn and as a distribution corridor. It has double patio doors leading to the back garden with decking and pool area. This veranda has been created to provide sun warm in the cold season. The longère houses comprises 2 bedrooms, an office and a shower room, and a large kitchen dining room with beamed ceilings. A wood cooker and a wood burning stone warm the longère.
The barn side of the house comprises large lounge with beamed ceilings and log burning stove. Step up leads to dining area, and there are patio doors to the front courtyard. There is one double bedroom to the ground floor, which can be converted to a kitchen, a boiler room, and a separate dry WC. Water toilets possible (septic tank and pipes already in place in the barn and the longere).
Stairs lead to mezzanine with two double bedrooms, and a separate staircase leads to family bathroom and small childs bedroom.
The grounds surround the property and there is a long wooded driveway leading to double garage and at the back of the property is a pool with views over open countryside.
The eco-property has been designed by an architect to incorporate as many green features as possible :
natural insulation with several materials in the walls, the floor and the roof,
reinforced electrical sheathing,
natural paints and soil coating on the walls,
beautiful terracotta floor,
double glazing and all the windows and the doors made in oak-tree or aluminium,
wooden floor (chestnut tree),
ecological heating and wood self-sufficiency for the wood stoves,
exposed stone walling coating with whitewash.
You can see more pictures on the french detailed ad of this eco-property in Dordogne or watching this video :
This eco-home in Perigord can be shared (co-op housing).
Price : € xxx xxx.
Urgent, professional move. Please make an offer before the house is rented !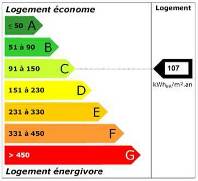 Energy consumption : C ( 107 kWhPE/m².year).
Greenhouse gas emissions : A ( 3 kgeqCO2/m².year).
Interested by these ad n°59 ? Please leave a message below.
(100% free service, no charge)
This ecohome in Dordogne is sold.
---
Green renovation : eco-friendly stone house for sale, suitable for B&B or gîte - Lot-et-Garonne (47), close to Agen - South of France - Aquitaine - Sold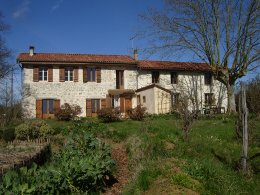 Old stone house with 7 rooms, 196 m², 4 bedrooms. It is located on a south facing hill with a 180 ° view overlooking the Garonne valley, in a quiet location, with no close neighbours. It is possible to make 2 separate dwellings with some work.
Ground floor :
kitchen/dining room 29 m²,
office 20 m²,
living room 29 m² with fireplace,
workshop 30 m².
1st floor :
4 bedrooms (32, 15, 15 and 26 m²),
1 bathroom.
A 44 m² terracotta terrace.
Green renovation :
the renovation was achieved using only eco-friendly materials,
composting toilets,
pellet central heating coupled with a solar heater for hot water,
insulation is recent for the 2/3 : hemp and lambswool,
a rainwater tank.
The roofs (except the barn's) are new.
Outbuildings all adjoining the house :
a 66 m² wine store house to be fitted out (roof and insulation are done),
2 wood frame buildings : a 80 m² barn and a 20 m² shed.
Grounds :
4858 m² including a well, a vegetable garden and an orchard with 20 young fruit trees all organically grown. The fields surrounding the house are also organically cultivated.
Location :
Bordeaux airport : 100 km (motorway), Agen : 20 km, Nérac : 20 km, Tonneins : 20km.
5 min from a village with main stores, post office, schools, train station and health food store.
Internet access.
Many pictures on our website, address on request.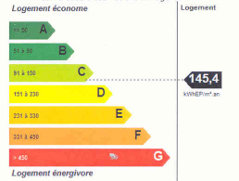 Energy consumption : C ( 145,4 kWhPE/m².year).
Greenhouse gas emissions : A ( 2,3 kgeqCO2/m².year).
This eco-property is sold.
---
Self-sufficient house for sale in Spain (Granada) - Sold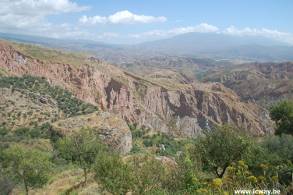 85 m² house on a 1-hectare land, self-sufficient in its supply of solar electricity and water.
The land is situated in Yegen, on the South slopes of the Sierra Nevada (province of Granada) and belongs to our neighbours who are leaving Yegen to go back to England (for family reasons).
As we would like neighbours with whom we could exchange and help each other, in a spirit of search for self-sufficiency and respect of the others and of the nature, we are publishing the advert for the actual owners.
Self-sufficient house :
85 m² on one floor (bedroom, bathroom, toilet, laundry room, living room, kitchen), built in 2006,
walls: finish of local stones,
natural flat stones terrace around the house, partly protected by a wooden pergola (+ vines),
self-sufficient in its supply of water (warm and cold) and solar electricity,
water tank / swimming pool +- 40 m³,
access to the village : by a pedestrian trail (15 minutes) or by car (2 km).
The land :
+- 1 hectare,
in terraces,
trees : +- 40 olive, a few almond, fig, quince, apple, lemon trees, vines, ...
naturally maintained (without herbicides, pesticides, ...),
partly bordered by a small river,
irrigation system (+ watering rights).
This off-grid home is no longer for sale.
---
Eco-property for sale in Portugal - Isolated in nature, magnificent views over the mountains and a lake - Sold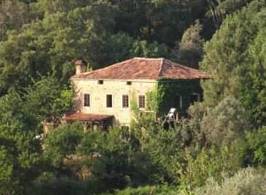 The property is located at the center of portugal, in a mountain environment. It is composed of a large old stone house and a modern cottage full of light with 120 m² of living space.
The stone house is an old building renovated with extreme elegance and simplicity with environmental quality materials - healthy and very respectful of the house features and of the lovely environment. Its renovation kept its charm and character. The result is a very healthy home with healthy materials .
With approximately 210 m² in total area, it is in excellent condition, ready to move in.
It has stone walls with exposed beams, wooden frames, solid wood staircase, lime wall plastering. The heart of the house, around the fireplace, is a great area very warm and welcoming.
All heaters are wood stoves. There is also a work in progress bio- pool as well as a Canadian well for the cottage.
The land, quite large and varied, allows a good autonomy in wood and gives room to a large garden. With many trees ( olive , oak , fig, etc. ), It is located at a very quiet rural setting, without having close neighbours or being exposed. It is near a small town but in the countryside, with magnificent views over the mountains and a nearby lake.
In a very quiet and harmonious place without pollution, isolated in nature, yet one can join the main roads easily .
Neighbours are simple and always eager to help ...
The property is located close to Figueiro dos Vinhos, near Pombal, Coimbra, Pedrogao.
This eco-property is sold.
---
Off-the-grid home for sale Tarragona, Spain - Sold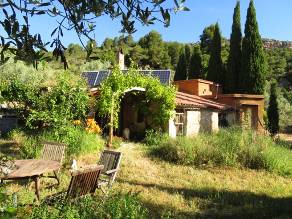 Home and eco-retreat centre in stunning nature reserve of Montsant, Tarragona, Spain.
A magical place of great beauty, purity, wilderness and silence, situated near Cabacés in southern Catalonia, 60 km from Reus international airport and 170 km from Barcelona.
This 1-hectare property is located within the Montsant nature preserve in the Priorat area, a world famous exclusive wine region, soon to be designated a World Heritage Site.
For the past 10 years, it has been running as a completely off-the-grid and unique retreat center which can currently accommodate up to 15 people in caravans and glamping tents.
All the buildings and structures are based on eco-building design and materials and the land as a whole is run on permaculture principles.
The property includes a 75 m² family house, a 30 m² apartment and 15 m² stone cottage.
It has an abundant fresh water supply all year round from a nearby mountain spring, with official water rights. There is no acoustic or light contamination.
It is a 15 minutes drive on a mountain road from the nearest village, Cabacés. 4x4 car preferred.
The village of Cabacés has many services such as local school, medical centre, restaurant, bakery, food store, swimming pool, cinema, and bus service.
Accommodation :
Family house of 75 m² with a lovely big kitchen and living space. 2 bedrooms (with space to create a 3rd bedroom) and 1 bathroom. Central wood heating system, with radiators in each compartment of the house.
Fully equipped apartment of 30 m2 with a loft that fits a double bed, kitchen and a separate full bathroom with dry toilet, shower and laundry area. Ideal for B&B off-grid apartment.
Stone cottage of 15 m² with one bed, kitchen, shower and a wooden stove.
Retreat centre facilities :
3 big cotton tents for glamping (for 10 people)
3 caravans for self retreat
Communal kitchen
Outdoor covered dining area
2 dry compost toilets
2 showers
Meditation hall (around 20 m²)
Wooden dome built on wooden raised platform with handmade cover to protect from sun and rain (5 m diameter)
Other resources and facilities :
Tool shed
Carpentry and storage space in double dome
2 vegetable gardens
An open corral for animals
Horse shed
Natural pond/swimming pool (5m x 3m, 3m deep)
30 producing olive trees
30 producing almond trees
A range of fruit trees (cherry, apricot, plum…)
Renewable Energy sources :
Photovoltaic installation able to give 4000 w of electricity and 2808 Ah of battery storage to cover all the electricity needs of the center and to heat water with excess supply.
Solar thermic installation to heat 150 liters of water.
This green home in Spain is not for sale anymore.
---
Eco-friendly farmhouse for sale - Centre region, Indre (36), France - Sold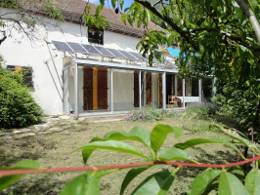 The nature and countryside of Indre are part of this countryside farmhouse (longère) renovated with green materials that also takes full advantage of solar energy.
Located in the Centre region in the south of Indre (36), this eco-property is close to Sainte-Severe-sur-Indre. This is a typical village with a covered market in southern department near the Cher (18), Creuse (23) and Allier (03) departments.
Close major cities are La Châtre, Guéret, Montlucon, Châteauroux, Bourges.
One can enjoy nearby castles, ponds, forests, the Massif Central at 80 km, ...
Cooking, music, basketry are part of regional specialties.
Located in a quiet environment without nuisance, this eco-house offers :
a living room of 24 m²,
3 bedrooms,
a veranda facing south of 18.5 m²,
a large loft.
From home, the view overlooking the woods.
There is a basement, a garage, a shed and outbuildings offering the possibility of other dwellings (about 300 m²).
An attached garden of 5 000 m² is enclosed with an organic veggie patch, organic fruit trees, beautiful oak trees, a pond.
There is a further plot of land of about 1 hectare where flows the Indre river.
This eco-home is south-facing, rooms and the lounge enjoy passive solar gain.
Materials, insulation and paints are eco-friendly.
The heating is based on a gas central heating and a wood stove Godin.
The property has solar energy panels (photovoltaic and solar thermal energy) providing electricity and hot water.
Two rainwater tanks are used to water the garden.
This place could serve as B&B, place of farming, eco-place, cohousing.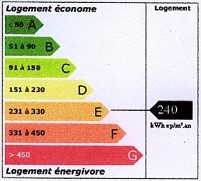 Energy consumption : E ( 240 kWhPE/m².year).
Greenhouse gas emissions : E ( 49 kgeqCO2/m².year).
This eco-property is sold.
You can see more pictures on the french detailed ad of this eco-property.
---
Publié le vendredi 30 mai 2014 par Olivier d'ImmobilierEcologique.fr